Careers
Security/Valet, Overnight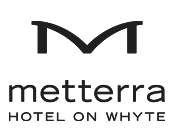 10454 82 Avenue
Edmonton, AB T6E 4Z7
Canada
Metterra Hotel on Whyte
98 Room Hotel
Our Hotel
Metterra is an authentic lifestyle hotel offering a contemporary hospitality experience to travelers who appreciate accessible luxury. Business travelers can enjoy close proximity to the University of Alberta, downtown and south Edmonton business and government districts. From its prominent location on Whyte Avenue in the centre of Edmonton's trendiest neighbourhood, you'll find the city's most walkable district and dozens of boutiques, cafés, coffee shops and pubs. The Edmonton river valley is a few blocks away and offers miles of cycling and walking paths, parks and off leash areas.
Metterra is one of the most unique hotels in Edmonton, and combines the simplicity of contemporary, natural wood furnishings and textured upholsteries in organically inspired colours; with an eclectic collection of global artifacts and unique art for a truly eclectic design aesthetic.
The Metterra team is empowered to do what it takes to ensure every guest's experience is exceptional. Sincere, unscripted and genuine service are our trademark.
---
Current Job Openings
Security/Valet, Overnight
Metterra Hotel on Whyte
Metterra and Varscona Hotels on Whyte are looking for an exciting & enthusiastic addition to our overnight team!
The Overnight Security/Valet is a front line professional that ensures a positive overall impression of the property as well as assists with all aspects of guest services. They assist guests in all facets of the hotel experience in an efficient, courteous and professional manner that maintains high standards of service and hospitality. They perform the duties of a Bellperson including assisting guests with luggage, valeting guest vehicles while conducting security patrols in all areas of the hotels during the over-night shift.
ESSENTIAL JOB FUNCTIONS:
Monitor the hotel premises and parkade by completing hourly security patrols.
Valet park and retrieve the guest's vehicle to/from hotel parkade or parking lot.
Work closely with all members of the Front Desk and Night Audit Team to communicate necessary information.
Show guests to room assisting them with their luggage.
Explain all hotel facilities, their location in the hotel, hours of operation, and answer all questions about these facilities and other hotel questions.
Maintain the cleanliness of the lobby, baggage room and public areas in front of the hotel.
Maintain an open communication line through all shifts by proper use of intershift log.
Comply with attendance rules and be available to work on a regular basis.
Perform any other job related duties as assigned.
MINIMUM QUALIFICATIONS:
Minimum 1 year previous experience required
Security license an asset
Safe, clean driving record (Driver's Abstract required)
Ability to drive standard vehicles
Must be able to lift heavy luggage
Ability to effectively deal with internal and external customers, some of whom will require high levels of patience, tact and diplomacy to defuse anger. 
Fluent in English (written and oral).
Must be able to work overnight shift work, including weekends and holidays.
ADDITIONAL QUALIFICATIONS:
Security clearance required upon offer of employment.

All successful candidates will be required to show proof of full vaccination upon hire. The Company will provide reasonable accommodation to any individual who is not able to comply with this vaccination requirement due to a disability or other ground protected by applicable human rights legislation.

Maintain a professional appearance and manner at all times.
Possess sensational customer service philosophy and a self-starting personality with an even disposition.
Must be willing to "pitch-in" and help co-workers with their job duties and be a team player.

Highly organized, results oriented and ability to work in a multi-functional team environment.
Must be completely familiar with the role during hotel emergencies, including fire alarms, medical emergencies, the use of Incident Reports and Logbooks.
Provincial legislation requires employees to work safely and cooperate with their employer by following the health and safety rules for the job.
OUR DIFFERENCES ARE WHAT MAKE US GREAT
At Crescent Hotels & Resorts we strive to create a great place to work where associates at all levels of our organization are respected for their differences, just like the guests and owners we serve. 
That's why we are dedicated to creating an environment that facilitates open and honest conversations about race, equity, diversity, and inclusion. By examining our own beliefs and behaviors, we can create change through training, recruiting, and promoting diverse talent to strengthen our culture.