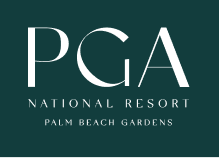 400 Avenue of the Champions
Palm Beach Gardens, FL 33418
PGA National Resort & Spa
354 Room Resort
Our Resort
PGA National Resort & Spa has long been a place of legendary moments. Here at this Palm Beach destination, luxury is always the standard, golf is never considered just a game and together the two create an enviable lifestyle in a setting that embraces the best Florida has to offer. Anchored by five championship golf courses, and renowned throughout the world as Home to the PGA Tour's Honda Classic and the legendary Bear Trap, PGA National also boasts a world-class destination spa, a private state-of-the- art sports & racquet club and an exclusive private membership club at the heart of this luxurious resort lifestyle community.
The moment you arrive you will feel what draws people to PGA National. Golf is at the heart of it all, combined with great food and friends, an enviable year-round climate that lends itself to an active lifestyle – all offered in warm and welcoming elegant contemporary surroundings.
---
Bar Back-The Butcher's Club at PGA National Resort
PGA National Resort & Spa
ESSENTIAL JOB FUNCTIONS:
Organize and set up bar in accordance to beverage department policy; responsible for opening and closing
Retrieves orders from storeroom.
Visually check stock received against written requisition with storeroom personnel
Upon delivery to the bar, re-checks items with bartender for completeness.
Stores back-up supplies needing refrigeration in prescribed containers for later use.
Checks and assists bartender in maintaining adequate amounts of supplies, i.e., stir sticks, napkins, matches, etc., for both the immediate bar and extended service area.
Maintains cleanliness of bar area, beer lockers, refrigeration and storage areas to comply with health code standards.
Cuts, slices and peels perishable garnishes and fruits, mixes and pours juices in sufficient amounts according to projected business.
Boxes and saves empty liquor bottles as they accumulate for later returns and requisitions.
Perform all other duties as assigned by Supervisor or Manager
QUALIFICATION REQUIREMENTS:
Must be able to perform each essential duty satisfactorily
Ability to effectively communicate and work well with fellow employees
Comprehension of written product labeling instructions to enable the safe application of products and processes within the hotel.
Basic mathematical skills
Upper body mobility, able to lift arms shoulder level
Sufficient manual dexterity of hands in order to use a knife, pick up glassware and bottles, scoop ice, tap kegs and extend arms overhead to stock items
Standing, bending, walking, move or pushing goods on a hand cart/truck weighing a maximum of 150 lbs.
Ability to perform duties within temperature ranges, from normal to refrigerated
Must be willing to "pitch-in" and help co-workers with their job duties and be a team player
Must be able to work a flexible shift, weekends, holidays
Must have Florida Food Handlers and Alcohol compliance certifications
REASONING ABILITY:
Ability to solve practical problems and deal with a variety of variables in situations where only limited standardization exists
Ability to interpret a variety of instructions furnished in written, oral, diagram or schedule form
CUSTOMER SATISFACTION:
Our customers are what we are about.  One of the keys to a positive guest experience is positive interaction with Crescent staff.  It is essential that you remain professional at all times, and that you treat all guests and associates with courtesy and respect, under all circumstances.  Every Crescent associate is a guest relations ambassador, every working minute of every day.
WORK HABITS:
In order to maintain a positive guest and associate experience, your work habits should always meet and strive to exceed hotel standards for work procedures, dress, grooming, punctuality and attendance.  You should be adaptable to change in your work area and in hotel procedures with a willingness to learn new skills and/or improve existing ones, have the ability to solve routine problems that occur on the job and ask for help whenever you are not sure how to do something.
SAFETY & SECURITY:
The safety and security of our guests and associates is of utmost importance to Crescent Hotels & Resorts.  Every Crescent associate should adhere to the hotel security policies and procedures, particularly regarding key controls, lifting heavy objects, using chemicals, and effectively reporting safety hazards and safety concerns.
NOTE: 
This description excludes non-essential and marginal functions of the position that are incidental to the performance of the fundamental job duties.  Furthermore, the specific examples in each section are not intended to be all-inclusive.  Rather, they represent the typical elements and criteria considered necessary to perform the job successfully.  Other job-related duties may be assigned by the associate's supervisor.
Furthermore, this description is subject to change, in the sole discretion of the Company, and in no way creates an employment contract, implied or otherwise; each associate remains, at all times, an "at will" associate.
OUR PROMISE:
At Crescent Hotels & Resorts, we create a great place to work where associates at all levels of our organization are respected for their differences, just like the guests and owners we serve.  That's why we are dedicated to creating an environment that facilitates open and honest conversations about diversity, race, equity and inclusion.  We offer dynamic work experiences that inspire growth and curiosity. We are known as the employer of choice for exceptional professionals and encourage you to find your passion.
PGA National Resort & Spa is an Equal Opportunity Employer:
Minorities / Females / Veterans / Individuals with Disabilities / Sexual Orientation / Gender Identity
EQUAL OPPORTUNITY EMPLOYER/PROTECTED VETERANS/INDIVIDUALS WITH DISABILITIES
The contractor will not discharge or in any other manner discriminate against employees or applicants because they have inquired about, discussed, or disclosed their own pay or the pay of another employee or applicant. However, employees who have access to the compensation information of other employees or applicants as a part of their essential job functions cannot disclose the pay of other employees or applicants to individuals who do not otherwise have access to compensation information, unless the disclosure is (a) in response to a formal complaint or charge, (b) in furtherance of an investigation, proceeding, hearing, or action, including an investigation conducted by the employer, or (c) consistent with the contractor's legal duty to furnish information. 41 CFR 60-1.35(c)
Equal Opportunity Employer/Protected Veterans/Individuals with Disabilities
The contractor will not discharge or in any other manner discriminate against employees or applicants because they have inquired about, discussed, or disclosed their own pay or the pay of another employee or applicant. However, employees who have access to the compensation information of other employees or applicants as a part of their essential job functions cannot disclose the pay of other employees or applicants to individuals who do not otherwise have access to compensation information, unless the disclosure is (a) in response to a formal complaint or charge, (b) in furtherance of an investigation, proceeding, hearing, or action, including an investigation conducted by the employer, or (c) consistent with the contractor's legal duty to furnish information. 41 CFR 60-1.35(c)