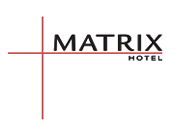 10640 100 Avenue
Edmonton, AB T5J 3N8
Canada
Matrix Hotel
184 Room Hotel
Our Hotel
Matrix Hotel provides a distinctive hospitality experience to travelers who appreciate great design in the heart of the city. The hotel is centrally located downtown between the business and government districts for the convenience of the corporate traveler. After the work day or for the leisure traveler, the Edmonton river valley is a short stroll away as are the many shops, restaurants, cafés, arts and theatre venues.
Matrix Hotel is naturally inspired, and was designed to be an environment where positive experiences are developed. The modern décor blends clean minimalist lines with sleek and textural natural stone and wood for a stunning and soothing atmosphere. Interesting objet d'arts and paintings punctuate warm hues of silver, pewter and platinum throughout the hotel's public spaces.
Matrix Hotel offers an unparalleled downtown Edmonton hotel experience.
---
Current Job Openings
Guest Room Attendant
Matrix Hotel
Matrix Hotel is looking for an exciting & enthusiastic addition to our housekeeping team!
Guest Room Attendants are front line professional that welcome guests by maintaining the highest level of cleanliness in the guest rooms and public areas.
Our Guest Room Attendants represent the hotel through excellence in service and cleanliness.
ESSENTIAL JOB FUNCTIONS:
Clean bathtub, toilet, sink, walls, mirrors, tiles, counters, and floor surfaces using cloths, mops, sponges, brushes, and/or cleaning agents by extending arms over head, bending and stooping.
Adhere to cleaning procedures and instructions for use of cleaning agents.
Strip and make beds, changing bed linens, which may require lifting bedspreads weighing a maximum of 50 lbs.
Dust all furniture, pictures, drawers, window ledges, and shelves thoroughly.   
Push and pull vacuum throughout entire room and empty trash and recyclables.
Replenish amenities, linens, and supplies in guest room.
Sign for room keys, retrieve, push to assigned rooms and restock heavy cart. Visually inspect room for cleanliness and appearance and signify completion for room.
Ensure all corridors, storage closets and public areas in the section are clean and maintained.
Comply with attendance rules and be available to work on a regular basis.
Perform any other job related duties as assigned.
MINIMUM QUALIFICATIONS:
Minimum 1 year previous housekeeping experience.
Possess physical stamina and be able to manage time well.
Knowledge of chemical cleaning agents and operation of various cleaning equipment.
Ability to extend arms, scrub, bend, stoop, and stand and walk public areas for extended periods of time.
Ability to work well in a team environment and independently.
Must have the ability to communicate in English.
Must be able to work varied shift work, including weekends and holidays.
ADDITIONAL QUALIFICATIONS:
Security clearance required upon offer of employment.
All successful candidates will be required to show proof of full vaccination upon hire. The Company will provide reasonable accommodation to any individual who is not able to comply with this vaccination requirement due to a disability or other ground protected by applicable human rights legislation.
Self-starting personality with an even disposition.
Maintain a professional appearance and manner at all times.

Highly organized, results oriented and ability to work in a multi-functional team environment.
Must be completely familiar with the role during hotel emergencies, including fire alarms, medical emergencies, the use of Incident Reports and Logbooks.
Provincial legislation requires employees to work safely and cooperate with their employer by following the health and safety rules for the job.
53 North Collection offers competitive wages & a comprehensive group benefits package.
OUR DIFFERENCES ARE WHAT MAKE US GREAT
At Crescent Hotels & Resorts we strive to create a great place to work where associates at all levels of our organization are respected for their differences, just like the guests and owners we serve. 
That's why we are dedicated to creating an environment that facilitates open and honest conversations about race, equity, diversity, and inclusion. By examining our own beliefs and behaviors, we can create change through training, recruiting, and promoting diverse talent to strengthen our culture.