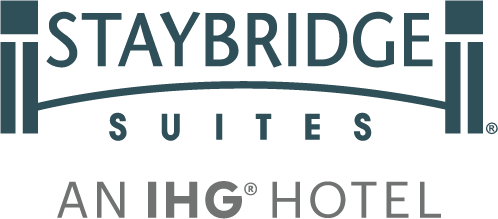 Staybridge Suites West Edmonton
126 Room Extended Stay
Our Hotel
The Staybridge Suites West Edmonton is the newest hotel in the area. Our location is convenient to businesses and leisure attractions.
Our new, smoke free hotel in Edmonton, Alberta has been designed to provide you with the best possible stay. Start each day with our complimentary hot breakfast buffet with a not-so-everyday spread of freshly prepared breakfast favorites. Every Monday–Wednesday, enjoy great food, drinks and conversation at The Social evening receptions.
Corporate guests know our all suite Edmonton hotel's location is near Finning Canada, the Royal Bank, ATB Financial and the Brick. The Shaw Convention Center is just 15 kilometers from our hotel in Edmonton. In addition, we offer free high-speed internet access and two meeting rooms.
The city of Edmonton offers leisure guests a variety of attractions. Within just a few minutes of our hotel in Edmonton you can visit the TELUS World of Science and the Art Gallery of Alberta. We're only three kilometers from West Edmonton Mall with its 800 shops, a miniature golf course and the Galaxyland Amusement Park. Canada's largest living history museum, Fort Edmonton Park, is six kilometers away.
---
Current Job Openings
Night Auditor/Manager
Staybridge Suites West Edmonton
JOB OVERVIEW:  Provide leadership through example, and assist in accounting where needed.  Balance room and outlet work daily.  Post and balance charges and settlements in a timely and efficient manner.  Maintain files and reset the systems for next day operations.
ESSENTIAL JOB FUNCTIONS:
1.           Act as Manager on Duty, addressing and resolving all questions or concerns
2.           Assist accounting team in accounts payable, accounts receivable, balancing, etc.
3.            Run audit reports/journals from the front office system, Point of Service and the computer.
4.            Make corrections and adjustments and handle all computer problems that might occur throughout the shift.
5.            Input into the front office system revenue/expenses/allowances to generate the daily reports such as the Guest Ledger Summary and the Daily Restaurant Summary.
6.            Balance all revenue and settlement accounts nightly, maintain files and reset the system for next day operations.
7.            Comply with attendance rules and be available to work on a regular basis.
8.            Perform any other job related duties as assigned.
REQUIRED SKILLS AND ABILITIES:
Must have the ability to communicate in English.  Self-starting personality with an even disposition.  Maintain a professional appearance and manner at all times.    Can communicate well with guests.  Must be willing to "pitch-in" and help co- workers with their job duties and be a team player.  Basic mathematical skills and ability to make accurate mathematical calculations using a 10-key.  Ability to effectively deal with guest and employee concerns in a friendly and positive manner.    Ability to access and accurately input information using a moderately complex computer system.
PERFORMANCE STANDARDS
Customer Satisfaction: 
Our customers are what we are about.  One of the keys to a positive guest experience is positive interaction with Crescent staff.  It is essential that you remain professional at all times, and that you treat all guests and associates with courtesy and respect, under all circumstances.  Every Crescent associate is a guest relations ambassador, every working minute of every day. 
Work Habits:
In order to maintain a positive guest and associate experience, your work habits should always meet and strive to exceed hotel standards for work procedures, dress, grooming, punctuality and attendance.  You should be adaptable to change in your work area and in hotel procedures with a willingness to learn new skills and/or improve existing ones, have the ability to solve routine problems that occur on the job and ask for help whenever you are not sure how to do something.
Safety & Security: 
The safety and security of our guests and associates is of utmost importance to Crescent.  Every Crescent associate should adhere to the hotel security policies and procedures, particularly regarding key controls, lifting heavy objects, using chemicals, and effectively reporting safety hazards and safety concerns.
NOTE:  
This description excludes non-essential and marginal functions of the position that are incidental to the performance of the fundamental job duties.  Furthermore, the specific examples in each section are not intended to be all-inclusive.  Rather, they represent the typical elements and criteria considered necessary to perform the job successfully.  Other job-related duties may be assigned by the associate's supervisor.
Furthermore, this description is subject to change, in the sole discretion of the Company, and in no way creates an employment contract, implied or otherwise; each associate remains, at all times, an "at will" associate.