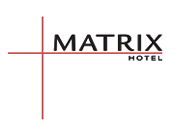 10640 100 Avenue
Edmonton, AB T5J 3N8
Canada
Matrix Hotel
184 Room Hotel
Step into the Warmer Side of Modern in Downtown Edmonton
Matrix Hotel provides a distinctive hospitality experience to travelers who appreciate great design in the heart of the city. The hotel is centrally located downtown between the business and government districts for the convenience of the corporate traveler. After the work day or for the leisure traveler, the Edmonton river valley is a short stroll away as are the many shops, restaurants, cafés, arts and theatre venues.
---
Current Job Openings
Front Office Manager
Matrix Hotel
Located in the heart of downtown Edmonton, Matrix Hotel is looking for an exciting & enthusiastic addition to help lead our guest services team!
The Front Office Manager will be responsible for overseeing and managing the front office operations to achieve customer satisfaction, quality service and compliance with corporate/franchise policies and procedures while meeting/exceeding financial goals. This role will have responsibility for Matrix Hotel in downtown Edmonton.
ESSENTIAL JOB FUNCTIONS:
Interview, hire, train, recommend performance evaluations, resolve problems, provide open communication and recommend discipline and/or termination when appropriate.
Implement company and franchise programs and manage the operations of the Front Office (Front Desk, PBX, Bell Stand, Concierge, Transportation, Valet) to ensure compliance with LSOPs and SOPs and to ensure an optimal level of quality service and hospitality are provided to the hotel customers.
Prepare forecasts and reports and assist in the development, implementation and monitoring of the budget to maximize revenue and minimize expenses while ensuring adequate supplies and staff are on hand to provide top quality customer service.
Resolve customer complaints, anticipate potential problems by reviewing and monitoring complaints, operational issues, business flow and associate performance to ensure high levels of customer satisfaction and quality.
Interact with the sales staff to discuss and implement sales strategies to continually improve occupancy levels and revenues.
Monitor and maintain the Front Office systems and equipment to ensure their optimum performance.Comply with attendance rules and be available to work on a regular basis.
Perform any other job related duties as assigned.
MINIMUM QUALIFICATIONS:
3 years' experience in front office hospitality operations required.
Post-Secondary Diploma or Degree in a related field an asset.
Strong communications skills are essential

Thorough knowledge of Microsoft Word, Excel, and Outlook.

Previous experience with Opera Property Management System an asset.

Fluent in English (written and oral).
ADDITIONAL QUALIFICATIONS:
Security clearance required upon offer of employment.
Self-starting personality with an even disposition.
Maintain a professional appearance and manner at all times.

Highly organized, results oriented and ability to work in a multi-functional team environment.
Must be completely familiar with the role during hotel emergencies, including fire alarms, medical emergencies, the use of Incident Reports and Logbooks.
Provincial legislation requires employees to work safely and cooperate with their employer by following the health and safety rules for the job.
53 North Collection and Crescent Hotels & Resorts offer competitive wages, work/life balance, advancement opportunities & a comprehensive group benefits package.
OUR DIFFERENCES ARE WHAT MAKE US GREAT
At Crescent Hotels & Resorts we strive to create a great place to work where associates at all levels of our organization are respected for their differences, just like the guests and owners we serve. 
That's why we are dedicated to creating an environment that facilitates open and honest conversations about race, equity, diversity, and inclusion. By examining our own beliefs and behaviors, we can create change through training, recruiting, and promoting diverse talent to strengthen our culture.