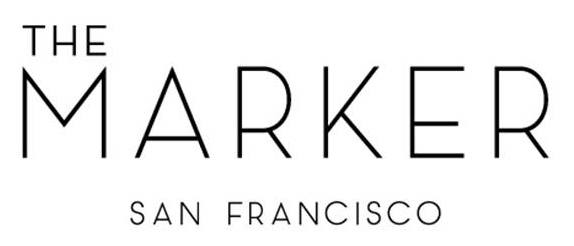 501 Geary Street
San Francisco, CA 94102
The Marker San Francisco
208 Room Hotel
Welcome to The Marker San Francisco
"I left my heart in San Francisco," Tony Bennett famously sang, a testament of the Bay Area's lasting impression. And amid this captivating city with its vibrant nightlife, arts, and cultural scene is our newly renovated, Beaux-Arts style hotel in downtown San Francisco—The Marker. Spacious, jewel-toned suites complement our sophisticated yet playful design, emphasizing creativity. Mere blocks from the world-famous Union Square, we'd like to welcome you into a hotel unlike any other.
---
Director of Front Office
The Marker San Francisco
Description
Located just steps away from Union Square in the heart of San Francisco, The Marker Hotel is currently looking for experienced, energetic, and outgoing sales professionals to fill the position of Sales Manager. We offer excellent benefits including medical, dental, vision, life, short-term, and long-term disability insurance, sick pay, holiday pay, vacation pay, hotel room discounts, and much more!!
Crescent Hotels and Resorts is the industry leader in hotel management and we proudly offer robust compensation and benefits packages along with a career path for our associates which celebrates their success.
Crescent was started with a deep belief in our people, encouraging them to apply their energy, passion, and unique abilities to make our hotels run remarkably. Our guests benefit from what each associate does as a part of this shared vision. We live the belief that we are successful because of our associates and that every role is important. As you grow, so does Crescent.
We value you and what you do. We manage properties of every size and major brand across North America.
Our goal is to hire the best people and prove that we are the only place you will ever want to work. Join us on that journey and explore the opportunities with us.
The Director of the Front Office's role is to manage accounts to achieve guest satisfaction and to solicit past and new business to ensure all revenue goals are achieved or exceeded.
JOB OVERVIEW: Provide guidance and leadership to the Front Office, ensuring consistent compliance with hotel policies, and quality guest service. Indirectly offers supervision for the entire hotel as well as making policies and developing plans for carrying out work programs.
REPORTS TO: General Manager
ESSENTIAL JOB FUNCTIONS:
1. Implement and manage the hotel's daily quality process including goal communication, associate improvement, compliance with Crescent standards of product and performance, service recovery, and problem resolution. Disseminate feedback from comment cards, guest satisfaction, and service failure measurements and coach accordingly.
2. Interview, hire, train, recommend performance evaluations, resolve problems, provide open communication, and recommend discipline and/or termination when appropriate.
3. Communicate both verbally and in writing to provide clear direction to staff.
4. Observe performance and encourage improvement. Monitor hotel occupancy and make staffing adjustments accordingly.
5. Field guest complaints, conducting thorough research to develop the most effective solutions and negotiate results. Prepare written correspondence to guests. Listen and extend assistance to resolve problems such as price conflicts, insufficient heating or air conditioning, etc. Remain calm and alert especially during emergency situations and heavy hotel activity. Plan and implement detailed steps or problem resolution by using experienced judgment and discretion.
6. Supervise the budgeting, forecasting, training, motivating, and staffing of the Front Office including Front Office, Bell Staff, Reservations, Concierge, Guest Services, and Transportation Services.
7. Plan, organize, chair, attend and/or participate in various hotel meetings such as Staff Meetings, Rooms Division Meetings, Executive Committee Meetings, Quality Teams Meetings, etc.
8. Comply with attendance rules and be available to work on a regular basis.
9. Perform any other job-related duties as assigned.
10. Review and maintain house inventory, to ensure house balance!
REQUIRED SKILLS AND ABILITIES:
Must have the ability to communicate in English. Self-starting personality with an even disposition. Always maintain a professional appearance and manner. Can communicate well with guests. Must be willing to "pitch in" and help co-workers with their job duties and be a team player. Requires the exercise of considerable managerial skill as the position involves frequent decisions, meeting of deadlines, negotiations of contracts of vendors, analytical ability, and the planning, organization development, and coordination of large-scale work projects. Ability to effectively deal with internal and external customers, some of whom will require high levels of patience, tact, and diplomacy to defuse anger and collect accurate information and resolve conflicts. Complex mathematical skills and considerable skills in the use of a calculator to prepare complex mathematical calculations without error, i.e. budgets, and forecasting. Ability to be mobile for significant distances between and within buildings on the property. Ability to observe performance and detect signs of emergency situations and respond with proper action.
PERFORMANCE STANDARDS
Customer Satisfaction: Our customers are what we are about. One of the keys to a positive guest experience is positive interaction with Crescent staff. It is essential that you always remain professional, and that you treat all guests and associates with courtesy and respect, under all circumstances. Every Crescent associate is a guest relations ambassador, every working minute of every day.
Work Habits: To maintain a positive guest and associate experience, your work habits should always meet and strive to exceed hotel standards for work procedures, dress, grooming, punctuality, and attendance. You should be adaptable to change in your work area and in hotel procedures with a willingness to learn new skills and/or improve existing ones, can solve routine problems that occur on the job, and ask for help whenever you are not sure how to do something.
Safety & Security: The safety and security of our guests and associates is of utmost importance to Crescent. Every Crescent associate should adhere to the hotel security policies and procedures, particularly regarding key controls, lifting heavy objects, using chemicals, and effectively reporting safety hazards and safety concerns.
NOTE: This description excludes non-essential and marginal functions of the position that are incidental to the performance of the fundamental job duties. Furthermore, the specific examples in each section are not intended to be all-inclusive. Rather, they represent the typical elements and criteria considered necessary to perform the job successfully. Other job-related duties may be assigned by the associate's supervisor. Furthermore, this description is subject to change, at the sole discretion of the Company, and in no way creates an employment contract, implied or otherwise; each associate remains, always, an "at will" associate.
For applicants who will be working in California, the anticipated compensation range for the position is $74,000 to 78,000. The wage offered to a successful candidate will be dependent on several factors that may include but are not limited to years of experience within the job, years of experience within the required industry, education, work location, etc. Crescent Hotels is a multi-state employer and the salary ranges indicated herein may not reflect positions that work only in other states
Education/Training: High school diploma required.
Qualifications
Scheduling
Equal Opportunity Employer/Protected Veterans/Individuals with Disabilities
The contractor will not discharge or in any other manner discriminate against employees or applicants because they have inquired about, discussed, or disclosed their own pay or the pay of another employee or applicant. However, employees who have access to the compensation information of other employees or applicants as a part of their essential job functions cannot disclose the pay of other employees or applicants to individuals who do not otherwise have access to compensation information, unless the disclosure is (a) in response to a formal complaint or charge, (b) in furtherance of an investigation, proceeding, hearing, or action, including an investigation conducted by the employer, or (c) consistent with the contractor's legal duty to furnish information. 41 CFR 60-1.35(c)