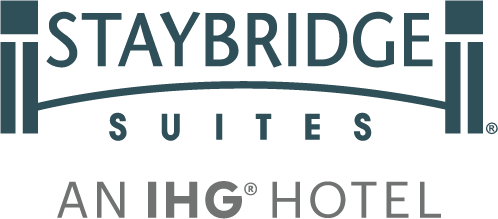 Staybridge Suites West Edmonton
126 Room Extended Stay
Spacious Edmonton Suites With Free Breakfast
Welcome to The Staybridge Suites West Edmonton. Our location is convenient to businesses and leisure attractions. The health and welfare of our guests is our number one priority. We've enhanced our global cleaning protocols in partnership with Cleveland Clinic, Ecolab and Diversey. It's all backed by our new IHG Clean Promise to give you the confidence you need. When you're ready to travel again, we'll be ready to welcome you.
Our property, has been designed to provide you with the best possible stay. Start each day with our complimentary hot breakfast and every Mon–Wed, enjoy great food, drinks at The Social evening receptions.
Corporate guests know our all-suite Edmonton hotel's location is near Finning Canada, the Royal Bank, ATB Financial and the Brick. The Shaw Convention Center is just 15 kilometers from our hotel in Edmonton. We also offer free high-speed internet access and two meeting rooms.
The city of Edmonton offers leisure guests a variety of attractions. Within just a few minutes of our hotel in Edmonton, you can visit the TELUS World of Science and the Art Gallery of Alberta. We're only three kilometres from West Edmonton Mall with its 800 shops, a miniature golf course and the Galaxyland Amusement Park. Canada's largest living history museum, Fort Edmonton Park, is six kilometers away.
Also, there's even a lovely indoor pool waiting for you.
---
Current Job Openings
Housekeeping Attendant
Staybridge Suites West Edmonton
Description
Staybridge Suites West Edmonton is looking for our newest team member!
We are looking for a fast paced cleaning professional who demonstrates our Core Values on a daily basis. If you are Thoughtful, Reliable, Sociable, Down to Earth, and be excited to work as part of our team then we want to meet you!
Our housekeeping associates ensure adherence to the brand and properties high standards of cleanliness and presentation in our public areas and guest rooms, including all laundered products.
ESSENTIAL JOB FUNCTIONS:
1. Stock housekeeping closets with amenities and supplies.
2. Sign for room keys,
3. Retrieve, push, and restock heavy cart.
4. Empty trash receptacles and transport trash to waste removal bins.
5. Clean and remove spots from corridor walls and doors. Polish and clean mirrors, room numbers on guest room doors, and elevator doors.
6. Thoroughly clean bathtubs, sinks, toilets, urinals, mirrors, tiles, counters, walls, stalls, vents and/or floors with cleaning agents by extending arms over head to reach all above areas.
7. Adhere to cleaning procedures and instructions for use of cleaning agents.
8. Thoroughly dust all furniture, pictures, and shelves, extending arms over head, bending and stooping as needed.
9. Thoroughly clean and polish all metal surfaces, applying pressure in repeated motion.
10. Strip and make beds, changing bed linens, which may require lifting bedspreads weighing a maximum of 50 lbs.
11. Dust all furniture, pictures, drawers, window ledges, and shelves thoroughly.
12. Push and pull vacuum.
13. Replenish amenities, linens, and supplies in guest room.
14. Visually inspect room for cleanliness and appearance and signify completion for room.
15. Operate washing and drying equipment, load and unload laundry from machines. Measure and administer cleaning agents to laundry according to product specifications.
16. Monitor feeder information on washers, make sure all drums are full, and report any irregularities to immediate supervisor.
17. Set the proper drying and cooling times for different types of linen.
18. Clean up machines and surrounding areas.
19. Comply with attendance rules and be available to work on a regular basis.
20. Perform any other job related duties as assigned.
REQUIRED SKILLS AND ABILITIES:
Must have the ability to communicate in English. Self-starting personality with an even disposition. Maintain a professional appearance and manner at all times. Can communicate well with guests. Must be willing to "pitch-in" and help co- workers with their job duties and be a team player. Knowledge of chemical cleaning agents and operation of various cleaning equipment. Ability to push and/or pull equipment weighing up to 100 lbs. Ability to scrub and scour surfaces, extending arms over head to perform cleaning tasks, and work in confined spaces.
PERFORMANCE STANDARDS
Customer Satisfaction:
Our customers are what we are about. One of the keys to a positive guest experience is positive interaction with our staff. It is essential that you remain professional at all times, and that you treat all guests and associates with courtesy and respect, under all circumstances. Every associate is a guest relations ambassador, every working minute of every day.
Work Habits:
In order to maintain a positive guest and associate experience, your work habits should always meet and strive to exceed hotel standards for work procedures, dress, grooming, punctuality and attendance. You should be adaptable to change in your work area and in hotel procedures with a willingness to learn new skills and/or improve existing ones, have the ability to solve routine problems that occur on the job and ask for help whenever you are not sure how to do something.
Safety & Security:
The safety and security of our guests and associates is of utmost importance to us. Every associate should adhere to the hotel security policies and procedures, particularly regarding key controls, lifting heavy objects, using chemicals, and effectively reporting safety hazards and safety concerns.